Logistics Officer
June 22, 2020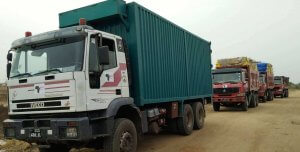 Position Title: Logistic Officer
Location: Juba
Report To: Head of Finance
Closing Date: 10th July 2020
ACROSS is an Interdenominational Christian and Humanitarian Organization serving South Sudan since 1972 with a mission of ''Transforming lives and communities in South Sudan and beyond.'' ACROSS is looking forward to recruit a qualified South Sudanese to fill the position of Logistics Officer.
_______________________________________________
Purpose of the position:
Logistics involves the timely and monetarily efficient acquisition and delivery of supplies and services to an area for the purpose of aid or programme implementation. Supplies such as food, water, temporary shelter, and medicine are needed for basic survival after any type of disaster. As part of the logistics team, the logistic officer is responsible for purchasing, warehousing, transport, vehicle management, computer systems, telecommunications, and security. Logisticians work with a team, including drivers, security guards, assistants, warehouse managers, and radio operators.
Tasks include:
Procurement support
Warehouse management of base supplies as well as field warehousing
Timely, safe, and cost efficient transportation of goods and services to and from suppliers and field locations
Securing clearances for transport
Fleet management
Driver coordination
Asset management
Data entry
Writing of reports
Communication with vendors, suppliers, contractors, authorities – by phone, email, or correspondence
Inventory management and stock rotation
Security coordination and communication
Coordination with finance and project manager
Other tasks as needed and assigned by line manager or ALT
Required Skills
Expertise in all aspects of logistics are the most important skills needed, including transportation management, inventory management, and purchasing and procurement.
General management skills are a must for this position, as they manage a large team in the logistics process.
Problem-solving skills are needed for the complex issues that ultimately arise in the humanitarian field.
Interpersonal and communication skills are essential because logisticians work with a range of people, many times from all around the world.
Basic IT knowledge is also required including use of Microsoft Word, Excel, email, and internet. Proficiency in typing is a plus.
Must be fluent in spoken and written English. Additional languages are a plus.
Committed Christian with cross-cultural experience with acute understanding of ACROSS Objectives/vision.
Strong leadership skills, self-driven, innovation and ability to work in a team.
Commitment to ACROSS Core Values: Integrity, Unity, Excellence, Faithful Stewardship, Commitment.
Commitment to:

Prevention of Sexual Exploitation and Abuse (PSEA)

Core Humanitarian Standard

Zero Tolerance for Fraud and Corruption
Required Credentials:
Bachelor's degree in business, systems engineering, or supply chain management.
Minimum of three (3) years' experience (not including internships).
How to Apply:
Interested candidates to submit their updated CV, cover letter, and written Christian testimony by
Email to or by hand to ACROSS Office in Juba. Kindly quote the position tittle clearly.
Please Note:
Only shortlisted candidates will be contacted.
Attach copies of all documents required (academic credentials, personal recommendations, CV, application & Christian testimony). Any application without these attachments will not be considered.
This position needs to be filled as soon as possible. Therefore, the position might be filled before the deadline.
This vacancy is open to South Sudanese nationals only and persons with the knowledge of the local text will be given preference.
Female candidates are encouraged to apply.
Applications once received are NOT Returned.