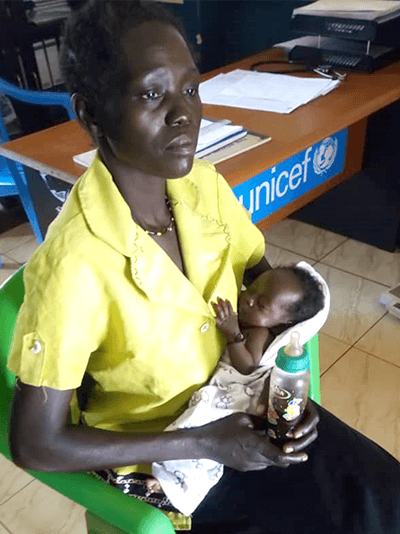 The ACROSS nutrition project started in 2016 in Lasu and Gorom refugee settlements in Yei and Rajaf Counties of former Central Equatoria State. The original project was supported by UNICEF, which was treating only severe acute malnutrition in children.
In 2017 ACROSS signed a Field Level Agreement with World Food Program (WFP) which scaled up the scope of the nutrition intervention to treat both the severely and moderately malnourished children, malnourished pregnant and lactating women and malnourished people living with chronic illness.
In partnership with WFP, UNICEF, UNHCR , and the State Ministry of Health, ACROSS provides nutritional intervention to malnourished children under five years of age, supplementary feeding to pregnant and lactating women and institutional feeding to people living with chronic illnesses of HIV/AIDS and TB in Lainya, Yei and Morobo. In 2018, more than 32,000 people were screened through the ACROSS Nutrition Project. Of those, more than 1200 children under the age of 5 were treated for acute malnutrition, including 115 needing care at the Stabilization Centre. More than 800 pregnant and lactating women received support as well as almost 3000 members of households with a person suffering from chronic illness.
The project also provided individual and group counselling on infant and child nutrition to more than 14,000 individuals in 2018. This counseling serves to prevent malnutrition by informing mothers of their children's nutritional needs. One common practice is for mothers, like the one pictured above, to feed their babies black tea. Through counselling and educational programs, mothers learn how to feed and care for their children.
The nutrition project's emphasis is on Community Based Management of Acute malnutrition (CMAM) and Maternal Infant Young Child Nutrition (MIYCN) while integrating WASH components like the distribution of soap and dissemination of basic WASH messages to the project beneficiaries in collaboration with WASH partners.