Media Team Pilots Bio-gas
19/02/2020
ACROSS Media trained community members in Terekeka in bio-gas and briquette making. The training's goal was to provide a practical application for the ongoing peace and reconciliation work being done through media messaging in the community. A result was an awakened awareness about bio-gas technology and its use as an alternative source of energy for cooking and its environmental and health aspects.
This was a pilot project to gauge the interest and adaptability of bio-gas as an alternative fuel. Overall, participants were delighted with the new technology and are interested in adopting it. The consultant feels that the potential for success in upscaling bio-gas in this community is great and something ACROSS could take on as a way of encouraging improved livelihood among the community, as well as a measure that contributes to preservation of the environment.
It may seem an unlikely fit for the media team to implement a bio-gas project, but the programme helped create space for pastoralist communities to understand and apply peace and reconciliation lessons learnt through oral media (digital audio players – DAPs).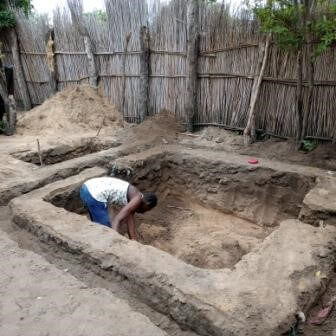 The project began with trainings on bio-gas theory and answered question the community had about the technology. Two bio-gas systems were installed in homes selected by participants as the most appropriate locations for the systems. The following steps were taken in installation.
a) Pit Excavation
Two pits were excavated on each site. This was done on Friday afternoon after the theory training. The first pit measured 2.5m x 2m with a depth of 1m, while the second pit measured 1m x 2m with a depth of 1m. First pit is the digester while the second one is the slurry pit.
b) Installing of the digester
This involved placement of the blanket on the floor and sides of the pits to protect the digester from any sharp objects
c) Connectors and Piping
Work involved fitting the inlet and outlet pipes, gas pipeline, pressure relief valve and desulphurizer.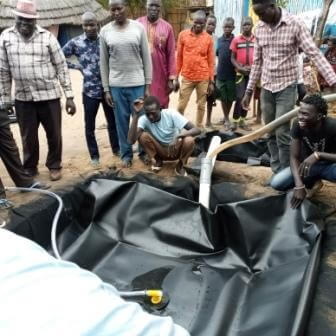 d) Filling the digester with water
4000 litres of water were pumped into the digester to inflate it so as to be able to complete the inlet pipe connection to the mixing chamber basin, and outlet pipe connection to the slurry point.
e) Final connections
The final connections involved;
Fixing of the mixing chamber to inlet pipe
Fixing of the slurry container and connecting the outlet pipe to it
Adjusting of the inlet and outlet pipes to ensure that they are properly aligned.
f) Feeding with cow dung
The final act for the training involved mixing the cow dung with water and feeding into the digester.