Leadership Transformation and Community Engagement
01/05/2020
At the heart of ACROSS is a vision for holistic, Christ-centred transformation of communities in South Sudan and beyond. Through a long-standing partnership with CMS-Africa, the ACROSS department of Leadership Transformation – Church and Community Engagement (LTCCE) seeks innovative ways of engaging the local church in the development of the communities they serve.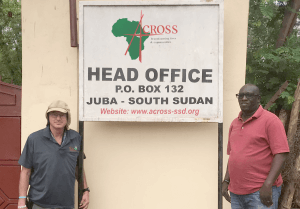 This newly revitalised department is led by Rev. Joseph Noel with support from Dan Janzen and includes some of ACROSS' most impactful strategies for community engagement: Transformational Leadership Training, Participatory Awakening Process, Community Health Evangelism, and Trauma Healing. Other tools used include our cross-cutting media messages on peace and reconciliation, gender equity, and spiritual development.
In addition to implementing targeted projects, workshops and training to build the capacity of church and community leaders, LTCCE will endeavor to find transformational opportunities in every project ACROSS implements.